A life's work passes on to the next generation – Huber's sons ensure the continued operation of the village
"We would like to introduce ourselves to you. We are Hansjörg Huber's sons: Yves Huber, Alain Huber and Philippe Stuker – and together we vow to ensure the sustainable operation of the village, just as our father wished.
Even though our hearts are heavy and the loss leaves a huge gap in our lives, there is not much time to mourn. The Atlas Kinder need us! The children in the village are doing well and we will do everything to keep it that way. We attach great importance to transparency in order to give the next generations of Atlas Kinder a bright future and continue our father's humanitarian mission.
Our father always said that he was also the father of over 200 children! He went to the village every day and although he worked almost non-stop, he always took time for a hug, a smile, a game with the children.
The children also know or feel that an important person in their lives is suddenly no longer there. In these difficult times, you, the supporters of the Atlas Kinder, are a tremendously important support for them and the village community. For that, we thank you from the bottom of our hearts."
Kind regards
Alain Huber, Yves Huber and Philippe Stuker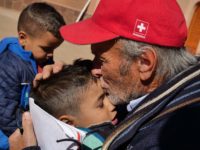 In loving memory of Atlas Kinder founder Hansjörg Huber. Video by Youssef Mama