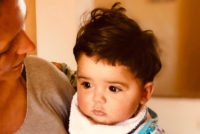 What people say of Dar Bouidar
Inès Pietz, Germany
When I visited the children's village for the first time in 2017, the children came running directly to meet us. My heart opened up. I knew right away that I was in the right place! Since then, I try to come spend a few days in the village two to three times a year.
The learning opportunities for the children are immense. They study languages, take music lessons and can ride horses. I myself have attended classes at the elementary school. The teachers are very committed. In addition, I am impressed by the commitment of the foster moms. They take care of the children as if they were their own. The village turns the children into enthusiastic people. This is due to the overall concept of Hansjörg Huber.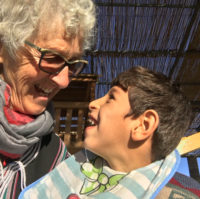 Verena Winzenried, Switzerland
My husband is a doctor – he had stumbled across an article about the children's village in a medical journal in 2017. We were so impressed with the article that we went directly to the village and stayed there immediately for a month. Since then, we regularly come to Dar Bouidar for several weeks, especially to support the disabled children. It is very important for us to have a good relationship with the foster moms, as they do most of the work.
The children's village is an exceptional project, especially for the attention given to disabled children, as I myself have noticed that these children are often neglected in public institutions. At Dar Bouidar, the children live in a protected environment and receive full support. There is a physiotherapy center in the village and horse therapy and contact with animals help the children a lot.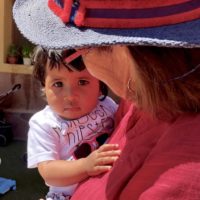 Susanna Frischknecht, Tahanaout
Since 2018, I have been living in the immediate vicinity of the children's village and can be reached immediately in case of need. I'm a kind of grandmother for the children of Dar Bouidar. In addition, I help with administrative tasks.
I knew about this project back in 2012, but at the time, the children's village existed only on paper. Today, we have a large village community with a school, a clinic and a farm. I have been able to follow the development of the village first hand and I'm extremely impressed by what has been achieved in such a short time. We owe this above all to the energy of Hansjörg Huber, who is tirelessly committed to the children and who will even build other villages. I am also fascinated by the commitment of the host moms and volunteers who come from all over the world to support us.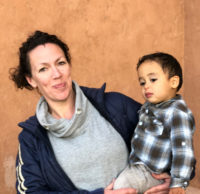 Voices of our godparents
Melanie Schales, Germany
When I first arrived in the village in 2017, I immediately noticed little Rayan* (*name has been changed). He was only four months old and had just arrived in the village. He was charming with his big eyes, but seemed lost, listless, and cried a lot. I still get goosebumps when I think about it, it touched me incredibly. I'm a mother of two myself and I really wanted to do something. So I decided to sponsor Rayan partially with my parents and a friend. Since then, I visit him as often as I can and I'm delighted with his wonderful development. He is now a part of my family, and at my parents' house, there is also his picture on the shelf in the living room.
I am very impressed with Hansjörg Huber's concept. There is a huge investment behind it. Children who would normally have no prospects for the future are suddenly part of an extended family and receive such a comprehensive education that they can support themselves later on. It's thoughtful from start to finish.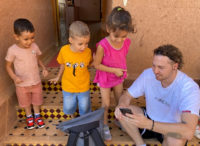 Andrea Jörg Lustenberger – Joris und Joshua Lustenberger, Switzerland
In 2017, Hansjörg Huber gave me my first guided tour of the village. After that, I knew immediately that I wanted to come back very soon. Since then, I have been going to Dar Bouidar two to three times a year to provide support. The work with the children fulfills me. In addition, I always meet interesting people from all over the world who are also committed to the children's village. These meetings are very enriching. For me, Dar Bouidar has become like a second home. In the fall of 2021, my two sons are involved in two sponsorships for two Atlas Kinder. It is very important for us to visit the two girls regularly and build a relationship with them. One of our goals is to be able to convince friends to sponsor as well. We have already managed to get two sponsorships, which we are very happy about.
This project is for the three of us an affair of the heart. The children who find a place in Dar Bouidar have been given a chance in life and will have a future. Not only do they grow up with a lot of love and attention, but they also receive a good education and individual support.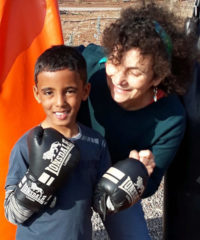 Christine André, France
In 2018, I came to volunteer in the village of Dar Bouidar of Atlas Children. Afterwards, it was unthinkable for me not to return and not to check on the children in whose house I had lived. Children who had opened their arms to me and given me their smiles. I decided to sponsor a boy there: Sabri *(name changed) was the shyest boy in the house where I had lived. He was abandoned by his mother, just a few weeks after his birth, and has never seen her again. When I met him at the age of three, he hardly dared to come closer or participate in common activities.
Today – thanks to the good care in the village – he has blossomed, smiling and discovering the world with enthusiasm. He especially loves boxing, this sport also helps him to strengthen his self-confidence.
I visit him regularly, ask the teacher about his school performance and offer him excursions. Sabri* is very proud to introduce me as his godmother. He knows that he plays an important role for me – and this in turn strengthens his self-esteem. All children from the villages of the Atlas children deserve a sponsorship. It is also a wonderful gift for us godmothers and godfathers.