Construction Begins on Two New Children's Villages/Cyclist Said Falah's World Tour for Inauguration
January 1, 2022 will be a milestone in the history of Atlas Kinder: on that day, Children's Village founder Hansjörg Huber will launch the construction of two new villages. They will provide a home for abandoned children in Morocco. At the same time, the 71-year-old Moroccan Said Falah is embarking on a tour for the benefit of the Atlas Kinder, which will take him – largely by bicycle – to 48 countries around the world. The tour is sponsored by the Moroccan fitness company Goprot.
It was a TV report that drew my attention to the founder of the children's village Hansjörg Huber and the Atlas Kinder," says Said Falah, who has already made a name for himself with spectacular bike tours, for example throughout Morocco. "Now I'm using my trip to get in touch with as many people as possible and make them aware of the plight of abandoned children. Alongside the bike tour, the Atlas Kinder social media managers are launching a virtual donation campaign at: https://www.cotizup.com/tourdumonde-constructionmaison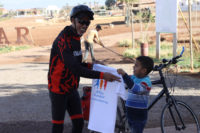 Launch of the construction of Dar Abla and Dar Aïcha
The journey of the Moroccan sportsman, who will wear a jersey with the Atlas Kinder logo, will start on January 1 at 10 am at the first children's village "Dar Bouidar". It is located about 30 kilometers south of Marrakech. About 170 children have already found a loving home there.
"All the children, mothers and employees of Dar Bouidar will accompany Said Falah on foot on the first few meters of his tour", explains Hansjörg Huber.
The first stop is the Dar Abla field, which is about one kilometer as the crow flies from Dar Bouidar's first children's village. Then, 500 meters as the crow flies separate us from the village of Dar Aïcha.
With the arrival of the famous cyclist and Hansjörg Huber, the construction of the two villages begins. The founder of the Children's Village Hansjörg Huber, who has already invested more than two million swiss francs of his personal fortune in the construction of the first Children's Village and who will now sponsor a large part of the land for the construction of the two new villages, solemnly inaugurates the beginning of the work by giving the first shovelful.
The two villages are to provide a home for approximately 120 children each. The construction of an elementary school is also planned. The planning of Dar Abla and Dar Aïcha is carried out voluntarily by the two architectural offices Abdelhakim Giulmi (Marrakech) and Karim Rachidi (Casablanca and Prague).
The construction of the two children's villages is financed by large private donors. The story of a couple from Casablanca is particularly touching in this respect: after their daughter Abla drowned in their own swimming pool in a tragic accident, the parents are now financing the construction of a children's village. Dar Abla was born from the loving memory of their beloved child.