International fundraising campaign in memory of Hansjörg Huber
Since the death of Hansjörg Huber, we have received so many messages from all over the world. Many people are very upset and ask us how they can express their sympathy or support us.
The answer is simple: They can help us best by helping the children! Hansjörg Huber would have wished nothing else. We ask you to refrain from flowers and gifts (as a sign of sympathy) and instead donate via our website www.atlas-kinder.org/spenden or via the link https://www.cotizup.com/rendre-hommage-huber We thank you from the bottom of our hearts for any support you'd like to give.
If you would prefer to get involved with the children in another way, for example in the form of a sponsorship, a voluntary commitment or a corporate cooperation, please feel free to write to us at: contact@atlas-kinder.org.
We look forward to hearing from you.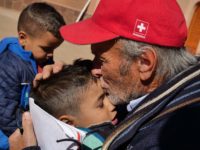 In loving memory of Atlas Kinder founder Hansjörg Huber. Video by Youssef Mama