New rules for our children's birthdays
Every child is important – and that is why we of course celebrate our children's birthdays. All children who have a birthday in a month, as well as their "siblings", can celebrate together on the last weekend of the month.
If you would like to give your sponsored child a birthday present, we ask you to give what you have brought to the host mother so that she can give it directly to the child. This way, other children who do not have godparents will feel less deprived.
If you would like to participate in the community birthdays at the end of each month, for example by sponsoring a snack or a clown visit at the village, please write to us: contact@atlas-kinder.org
We thank you on behalf of our children.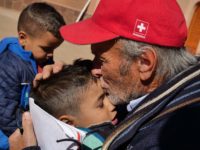 In loving memory of Atlas Kinder founder Hansjörg Huber. Video by Youssef Mama