We mourn the death of village founder Hansjörg Huber
On September 3, 2022, Hansjörg Huber, founder of the organization Atlas Kinder, passed away at the age of 75. The world lost a person who taught us what humanity can do.
Huber's sons, Yves Huber, Alain Huber and Philippe Stuker will now ensure the sustainable operation of the village. "Even though our hearts are heavy and the loss leaves an infinite gap, there is not much time to mourn. The Atlas Kinder need us! The children in the village are doing well and we will do everything we can to keep it that way," the three explain. "In doing so, we attach the greatest importance to transparency, so that we can also give the next generations of Atlas Kinder a future and thus continue our father's humanitarian mission."
Invitation to the funeral service  
A public funeral service will be held at the Dar Bouidar Children's Village in Tahannout on Saturday, September 10, 10-13 h. We ask that you refrain from sending flowers and gifts as a sign of sympathy and instead donate via our website https://www.atlas-kinder.org/en/donation/ or via the link https://www.cotizup.com/rendre-hommage-huber, as Hansjörg Huber would have wished.
In these difficult times, we thank you for your support more than ever. Each and every one of you counts.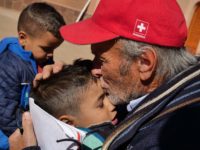 In loving memory of Atlas Kinder founder Hansjörg Huber. Video by Youssef Mama